IDEA
: This past week I had dinner at Red Rooster in Miami: the chef Marcus Samuelsson (from tv show Chopped) channels his Ethiopian roots, making for a most remarkable blend of spice and flavor (said in my best food critic voice).
The waitress seated us and before getting our drinks pointed out that one item on the menu (the 3-day braised ox tail) was almost out. As seen on 'the best thing I ever ate,' this fire roasted wagyu oxtail rubbed, braised & smoked, topped with pickled chilis and served alongside sweet plantains is limited to 10 plates per night... "because the dish takes so long to cook."
It would serve the whole table. And we ordered it immediately.
I don't even love ox tail, but with that kind of context how could you not?!?!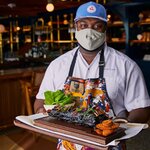 When the ox tail came out, it was basically life-changing. Yet without the framing of limited supply, my zero moment of truth may have played out differently. I would never have ordered the ox tail if it was just another list item on the menu.
ACTION
: Vacation rentals are, by nature, limited edition goods. Each property has a limit of 52 weeks (or as
@TeenaNH
likes to call them, "widgets") per year to sell. Once your 52 widgets are booked, you're all sold out.
Instead of freaking out about the insurmountable task of "competing with Airbnb and Vrbo" for bookings, recognize that independents work on an entirely different metric scale: a scale of
personality
and
small batches
where if you don't explain
why the ox tail is so special
and accordingly
how few remain
, guests won't order it.
The best place to introduce your Ox-tail is at the end of your very first interaction (email or message) with a guest in the form of a P.S. statement.
For whatever reason,
P.S. statements always get read
.
P.S. we only have X (of the thing that is amazing) remaining
P.S. As a family business, we are very proud of this (link to humble brag)
P.S. We're only offering (the thing that is amazing) to former guests
If nothing else, using a P.S. statement conveying urgency will get the conversation started and allow you to do your thing.
Vacation rentals are going through a counter-intuitive trend in marketing. Forget about big web traffic, technology, and gigantic email lists for just a second. And instead, focus on serving 10 oxtails. When you've done that, pour yourself a glass of wine for a job well done and begin plotting your next move.
Does anyone have any good P.S. examples or scarcity phrases that seem to work?
Last edited by a moderator: