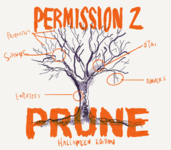 Permission to Prune
IDEA: Tree pruning means selectively removing injured, dead, or infected parts of the tree in order to improve the tree's structure, and promoting new, healthy growth. Vacation rental businesses can prune too by selectively removing parts of the business that are weighing us down and impeding our goals.
ACTION: Prune parts of your business that may be restricting your growth. Some examples:
Sub-par properties in your fleet that generate sub-par reviews (retire them from the fleet)

Complicated owners in your pool who unnecessarily take up precious time and resources (release them from the relationship)

Listing sites that generate less-than-optimal results in guest quality or channels of communication (delete your account)

Employees that are just not the best fit for your team (fire them)
Software that is holding you back (choose a new one)
At first, removing these aspects of your business may hurt -- it might seem like you are taking a step backwards. But give it a few months and you'll be surprised at how you rebound. You'll be surprised at how profitably and enjoyably the newly-pruned business responds. P.S. If you are nervous, you can tell the person that Matt gave you "permission to prune" and send them my email. Just kidding don't send them my email.
Sincerely,