I am currently visiting

Godfrey
in Sun Valley, Idaho where the supply of vacation rental properties is so limited (and the demand for this destination so great) that property owners and managers need to be extra intentional about how they spend their time. To a degree, I think this focus is increasingly playing out across the world.
Every activity falls somewhere on the profit spectrum, but which activities actually generate the most? Which are most directly correlated with your bottom line? For entrepreneurs, not focusing of these activities means money on the table. And so today I'd like to pass the question along to you:
what use of your time generates your greatest profit?
+
Uncover hidden profit and cashflow
: Shout out to

Will Franco
for sharing this chart in which we can clearly see certain kinds of customers are worth pursuing while others are not. Finding guests who resonate with you and who respect/admire your craft makes small business much more enjoyable.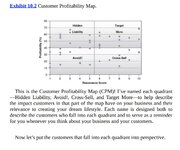 +
Getting on the phone with prospective guests
: Managing my own rentals, I always believed if I could get a guest on the phone, I could close the booking. A phone call is the chance to let my personality and local knowledge shine. The more surefire way to build trust. And the quickest way to answer all the little questions that invariably pop up. With instant-booking a new normal, any way to secure a phone call gives my conversion rate a boost. (Anyone have any good tips to secure phone numbers from inquiries? The saying goes, "if they provide their phone number, they're permitting you to call.")
+
Crafting and sending email newsletters
: The engine or backbone of any small business, a solid email list communicated with regularly in the form of a thoughtful newsletter is a profit-focused activity. Written well, these mailers engage former guests and stimulate repeat and referral bookings. The bigger your list gets with quality contacts, the proportionally more you earn from each blast. (Any tips on highest-producing newsletter strategies please jump in below).
Learning
: Here are my lessons from
130 weeks of VRMB newsletters
+
Onboarding new homeowners
: For property managers, the strength of your relationship with homeowners is primordial: it's what gets all the profit waterfalls flowing. Identifying new properties and owners is a high-producing activity and making sure they get into your program in a premium way is an investment that pays for itself year upon year.
+
Forging referral partnerships
: All guests to your area spend money on other stuff, whether it's dining, tours/activities, transfers…etc. Spending the time to identify one or two partner companies, formalizing with them a referral agreement, and receiving that check every month or quarter is a high-profit activity.
Nancy
's piece on
Upselling
is a great read.
+
Creating video
: Whether you're sending each guest inquiry a digital handshake or offering a fun tour around the home, video engages better than text and photos. Video is also probably the cheapest paid ad medium on the web right now, specifically Facebook where you can target those who have visited your website, friends of friends, those who leave in nearby city...etc. And very few (if any) of your competitors are using it.
Note
: Get inspired by
ROster
's thread
IDEA SHARING: What's the single most effective marketing idea you've had?
+
Following-up
: Spending time reaching back out to those who have shown interest in booking is a high-producing activity. You can automate this process with most property management softwares (see: VRMB's
Keystone Awards 2021
) The more personalized you can make it, the better. Post departure follow-ups are the icing on the cake that seals the great experience and ushers in future bookings. Put another way, very few vacation rental hosts actually follow-up, which means you'll be the only one doing it in town.
We've only just gotten started...
What are our highest-producing activities?

I am REALLY looking forward to perspectives below...
Last edited: