I just agreed to lease one of our long-term extended-stay rentals to a local family who live about a one-minute walk away from Skönhuset (Swedish for "the nice house"). Our neighbor's son is terminally ill with four to eight weeks to live. Hospice (and a hospital bed) will be brought in very soon to help during this time. The son's wife and kids can stay there for a day or two every so often. This arrangement will be so much better than the son living in a hospice care center, further away from family and familiar surroundings. We will help them rearrange furniture as needed. And yes, the neighbor is paying for this.
Many years ago, I went through something similar, moving my father with Alzheimer's from Illinois to a care facility about a fifteen minute drive away from my home here in Denver. Many of you and your families have gone through something like this too.
Death is part of everyone's cycle of life. I'm happy that we can provide this place for the son's final weeks.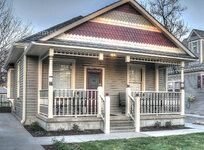 Last edited: