Note: I first heard
@AmyH
mention this in an interview and I text messaged her and said, "Can I draw this out?" I then shared with
@Christina
and over the course of what feels like MONTHS of Christina telling me all the additional things that could be done with the model, she agreed to let me post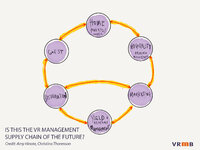 Challenge for Community Members
: Because we're such a new industry, it's hard to understand where each piece of your business fits in relation to one another. In fact, I don't think I've ever seen a 'map' (if you have one, please share) outlining the process of check-in to check-out. So from version 1.0 some discovery questions...
How would you improve this flow?
Are there additional "feedback loops" (arrows) that are necessary?
What changes are needed for owner-operators?
What changes are needed for larger property managers?
What pieces are not necessary or bad?
What pieces are extra good?